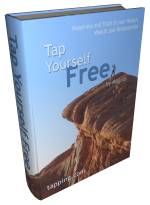 Tap
Yourself
Free
Happiness and Truth in your
Health, Wealth, and Relationships
For
instant access
to my e-book, 'Tap Yourself Free',
invest $39.95 in yourself now via PayPal or Credit Card.
Everything I have discovered about using Tapping for Self-Development is in this book. This book will make you see your life differently and put you firmly in the driving seat.
All you need to know about the nature of your conscious and unconscious mind



The interplay of thoughts, negative feelings, and beliefs



How to find the limiting beliefs that are holding you back



How Tapping works, and why it is so powerful



Clear Real-Life examples
It is my hope that following the guidelines in this book will show people how to become the person they want to be. It worked for me - I could never have succeeded in a project like this without following the principles described. I have tapped away my barriers to success - and I want to see you do the same.
This book is the key to making the changes you hear about from other self-help resources. It is your negative beliefs that stop you changing - Tapping is the way to remove them, and rapid self development becomes a breeze.
Free yourself from excessive Stress, Anxiety, and Depression



Find that you can Forgive where you thought it was impossible



Eliminate the shadows of past Relationships



Destroy Lazy Feelings that stop you exercising



Wipe away Food Cravings



Finally understand Procrastination and develope the habit of doing things



Become someone who falls asleep quickly, Sleeps Soundly and wakes up easily



Open yourself to Money and Wealth, whatever that means to you



Learn how to Achieve any Goal
'Tap Yourself Free' explains how your negative feelings and limiting beliefs are all that stop you from achieving all these things.
Tapping Guide

In this Tapping Guide I explain precisely how to tap, and how to find and remove the barriers that block you from achieving common goals.
The Science of Getting Rich

This hundred-year old book by Wallace Wattles is available free all over the internet and many people offer it as a bonus with their e-books. I used to think this was because it was out of copyright, but after reading it (a dozen times now) I realised it's because it holds valuable timeless information.

I've put together a unique Tapping Guide that will help you remove your internal barriers to wealth.
Free Premium Forum Access
When you buy my e-book you get special access to a private board on TappingForum.com, just for people who have bought my e-book. This board is for people who are serious about applying Tapping to everything in their lives, and I give it priority when helping people, above the public board.